Happy New Year, my friends! I wish the new year will bring you an enormous bag full of presents where you'll find good health, strong love, infinite happiness, great mood, prosperity, career, pots of money and a shovel for pocketing profit!


Speaking of presents, let me remind that InstaForex always treats its clients, even during the crisis, and provides an opportunity to start trading without spending a cent, or to increase one's deposit with the help of 250% bonus. To get the bonus, follow this link.
Regular clients can take advantage of other offers which suggest monthly adding of interest on free margin, and getting one of the welcome bonuses: 30%, 55% or 100%.
The Fire Monkey Year is close, so it's time to sum up the results of 2015.
The long-term account has brought only limited success, and there were no setups on crude and gas, so only one account was engaged in trading. Unfortunately, the market wasn't favorable for me, that's why most of my deals were closed by stop loss, and I've suffered a monthly loss of $482.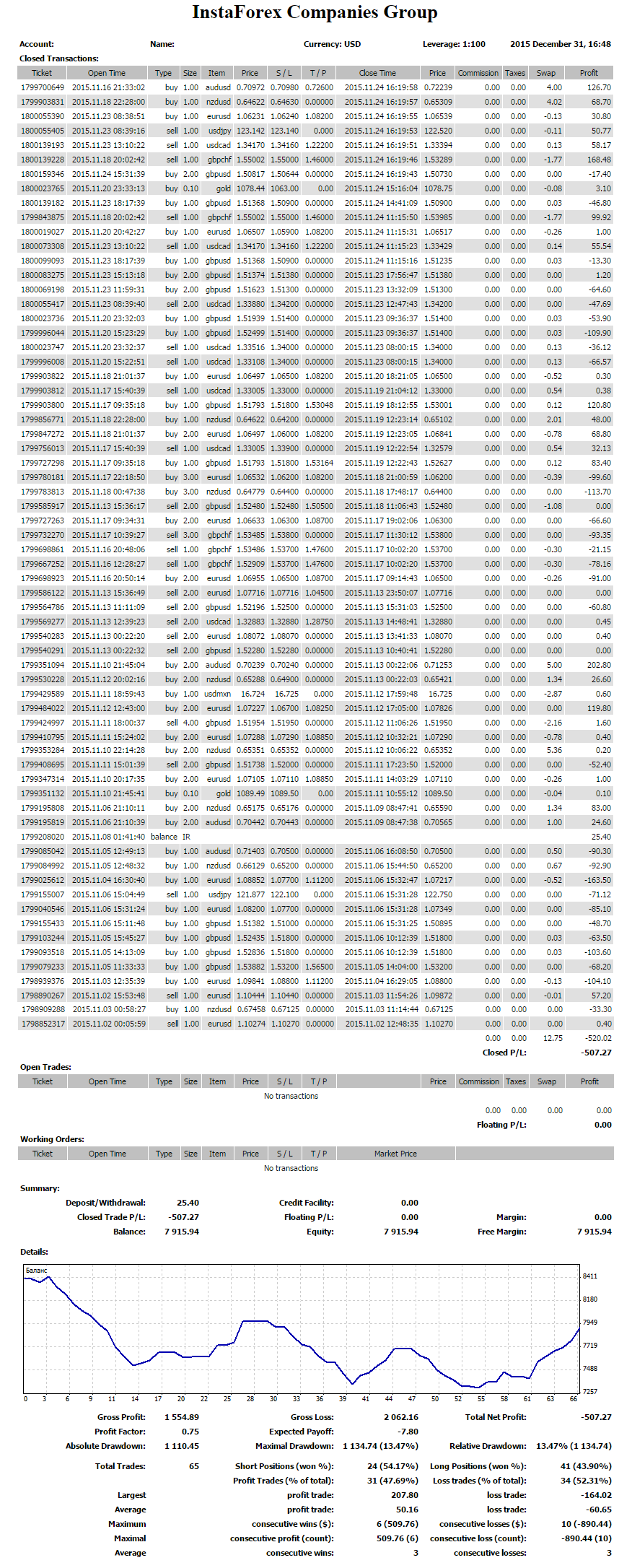 December 2015.
This month, I focused on majors and commodity currencies. There was one order on silver on the long-term account, and there were only two setups on crude, one of which came neutral, and the other one brought profit of $108. In the first half of the month, I entered the market based on technical analysis, and after the Fed announced the rates path, I bargained on the US dollar strengthening against the euro and pound, and it brought a decent profit of $1,084.
Account No 1.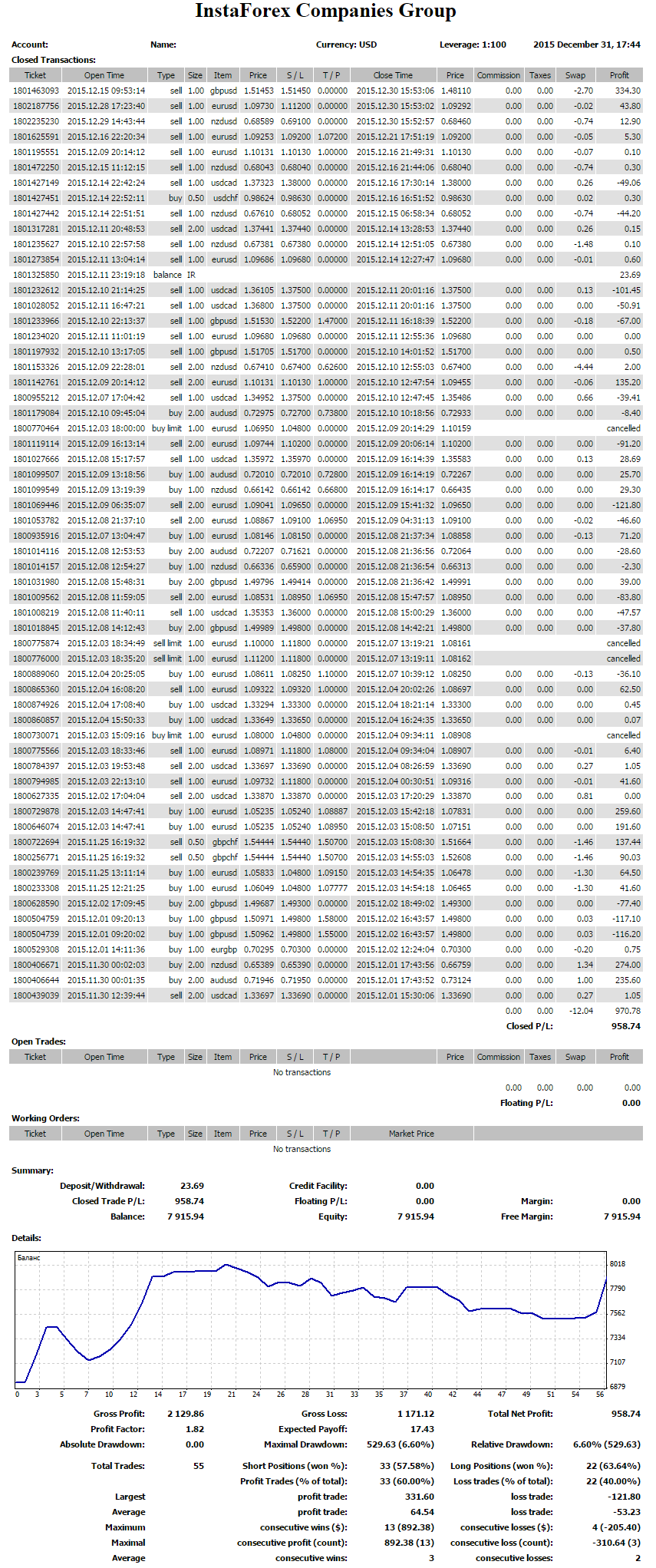 Счет №2.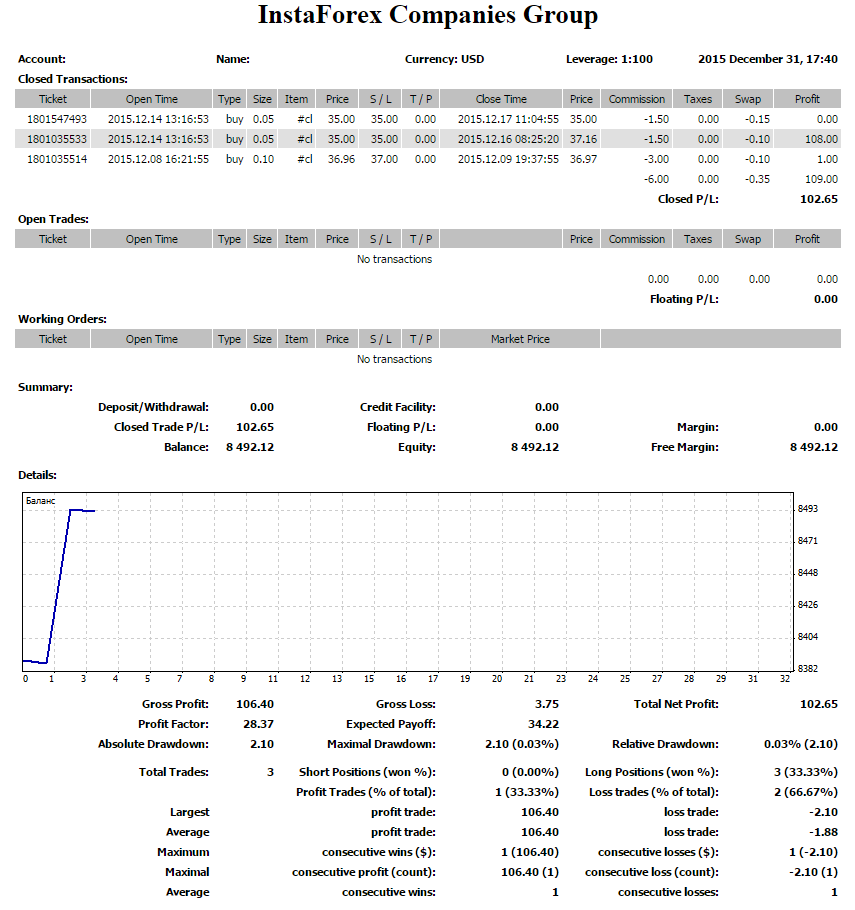 Results for 2015.
As the readers of my blog asked, here I present my results for 2015. Despite the fact that November has brought some losses, total result has turned to be quite positive: I've got a profit of $13,740. Such success has been achieved thanks to systematic approach and sticking to the money management principles. As they say, learn to put aside and the profit will not be slow to arrive.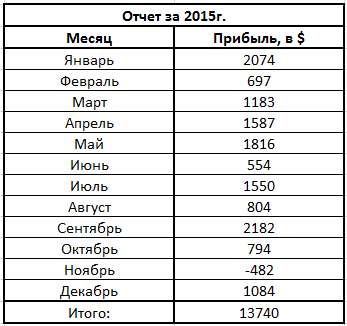 Hope that the Fire Monkey year will bring you no painful surprises, and your trading will be as successful as in the outgoing 2015. Let me once again wish you Happy New Year. May all your dreams come true!