Dearreaders! I'm often asked, "What company would you recommend for opening an account to trade on Forex?" My answer is, choose the one that treats its clients like kings and offers lots of goodies to ensure comfortable trading. Personally, Iprefer InstaForex. Why? The reason is simple. Despite the current economic crisis, InstaForex is still holding the "250% Bonus" campaign aimed at trading beginners. To receive the bonus, follow this link. The company's most loyal clients can also expand their deposits by using one of the welcome bonuses (30%,55%,100%). Besides, the broker accrues up to 13% annual interest on free margin. 
I believe you would be interested to know what trading results I managed to achieve during this Greece-related financial meltdown. Even amid the turmoil, when my stop orders were set off all the time, the overall profit from the two accounts came up to $554. Taking my previous successes into account, I believe this is quite a good result.
Now let's take a look at each of the accounts in more detail. 
Account #1
Market entry points were formed for the following currency pairs: EUR/USD, GBP/USD, GBP/JPY, and NZD/USD. At the beginning of the month, some of my stops were triggered, but the losses were offset by a few profitable deals. The profit could have been much bigger, but the market was rather unstable due to Greece's possible default and the Fed delaying an interest rate hike in the US. Amid low summer liquidity and a turbulent fundamental background, price action often did not coincide with technical analysis. After a trading setup was formed and completed, the position would eventually be closed at a stop or breakeven level. Nevertheless, thanks to a systematic approach and the use of money management techniques, the profit on this account totaled $97.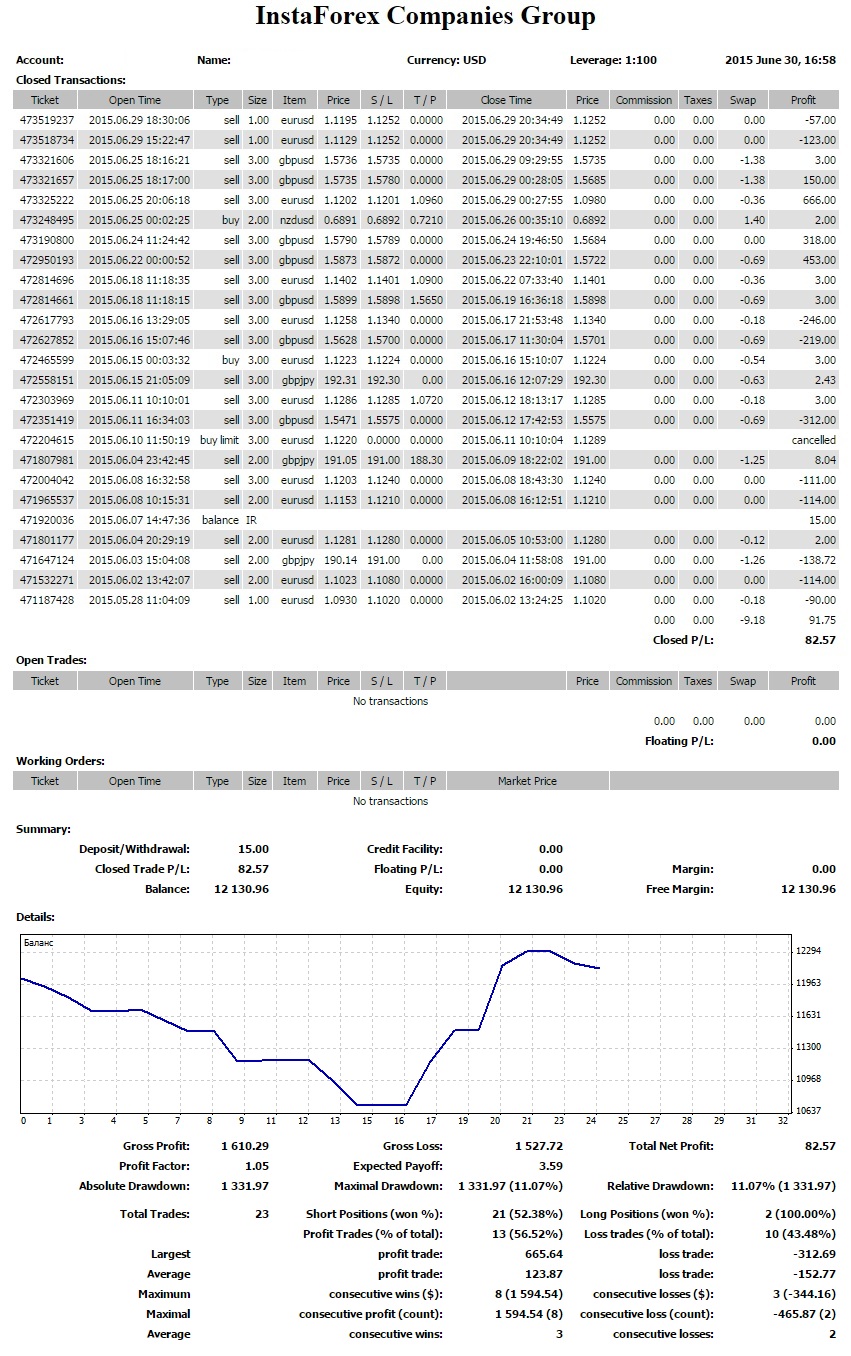 Account #2
As well as in earlier periods, I mainly traded light sweet crude oil (CL). Given the price movement within the horizontal channel, I counted on a rebound from the channel boundaries. As a result, I made as much as $457.
If you look at the statement data, you'll see that I closed the month in the green with 46% of profitable trades. Proper capital management is what made it possible. My profits were rising, and I cut losses at the first trading signal or short stop order. 
It would be great if my fellow traders also shared their achievements for the month by leaving comments below.