Dear readers! I'd like to remind you that the "250% Bonus" campaign from InstaForex is still available to trading beginners, despite the current economic crisis. Togetthebonus, followthislink. The company's most loyal clients can expand their deposits by using a welcome bonus of 30%,55%, or 100%. In addition to all these benefits, you can also receive up to 13% annual interest on free margin. It is no wonder therefore that InstaForex is chosen by so many traders. 
By the way, today is the last day of spring, which means it is time to sum up my trading results for May 2015. This month brought me a nice profit that totaled $1816 on two accounts. 
Account #1
I focused primarily on EUR/USD and EUR/JPY because there was a 60% probability that a bearish candle would occur on a monthly time frame, according to my analysis. Even though the price didn't start moving at once in the predicted direction, the forecast turned out to be quite accurate after all, and the month ended with a bearish candlestick. The strategic stop order set above the high of wave 4 on the daily time frame was calculated correctly. In fact, I could easily keep just two mid-term positions to get the same result. So there was actually no need to monitor small time frames round the clock trying to find a good setup, as I could spend less time and still earn the same amount of money. Thanks to accurate mid-term forecasts, my monthly profit on this account amounted to $1,023.
You can find more detailed information on my trading operations in the account statement below.  
Account #2.
After a sharp rise, crude oil prices started a pullback, which was identified as the first bearish entry wave. Following the impulse, a short-term correction took place, and I seized the moment to enter the market as potential wave 3 was starting to unfold. Even though the first trades were closed at breakeven, I managed to achieve a profit of $793 thanks to a timely re-entry from key price levels. As the impulse bearish structure was impeded, the last sell order was closed at the market price, and I didn't try to resume my short anymore. The account statement below will speak better than words.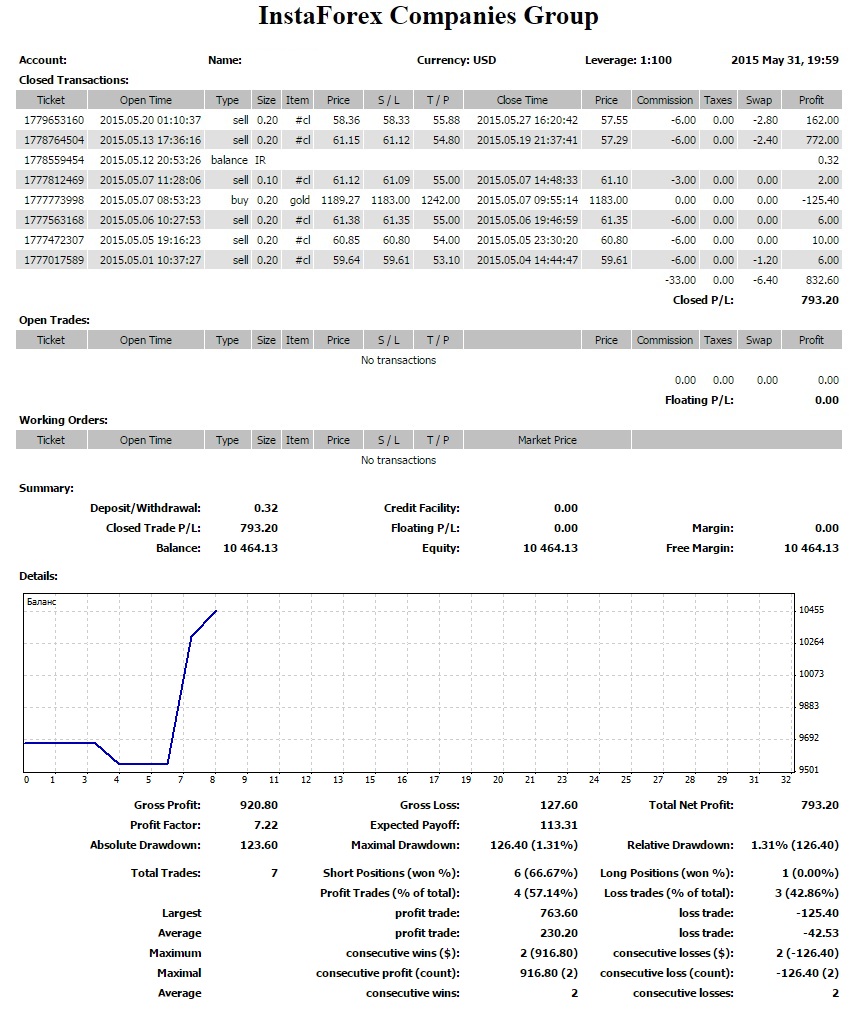 You may want to take a look at these key parameters for both accounts:
Profit Factor: 2.04 and 7.22, which is an outstanding result;

Maximal Drawdown: 1.31% and 5.44% - a superb result achieved by applying proper money management techniques;

Profit Trades

:

57.14%

and

61.11%.  
Now it's your turn to share your trading results for the month. Have you earned enough to afford a nice vacation at the beach?