Hi to everyone. First all, let me wish you a good start of the winter. Days get shorter and we feel more comfortable at home, so I spend plenty of time, trading and getting better insight into the world of financial markets. Yes, that's right. Though I've got vast experience on Forex, there is always something new for me, and if I find some interesting material, you are the first who learn about it.
I guess, you are eager to see my trading results for November 2016. Frankly speaking, with a total profit of $1,178, still I'm not satisfied with the result. And it's not about money, it's about the psychic income. Some trades were closed by stop losses due to which the profit was reduced. So, let us take a close look at the history of my trades on each account.
Account No 1.
As you already know, this account is the most actively used, here I place a lot of orders on various currency pairs and other trading instruments. Last month I paid great attention to the currency basket the quotes of which form the dollar index. I bet on the weaker greenback at the beginning of the month and won. However, I lost part of profit after Trump was elected as the next US President. A continuous drawdown ended only at the end of the month, and I managed to earn $142. This sum could have beenmuch bigger unless two stop-loss ordershad been executedon AUD/USD and GBP/USD. 

Account No 2.
Oil trading involved a higher level of risk which influenced the dynamics on this account. The profit reached as high as $2,000, but the total result was slashed owing to the outcome of the OPEC meeting where oil producers agreed to cut the output. This time, fundamentals turned to be stronger than technical indications. The expectations of a fall in oil prices based on the bearish Wolfe wave and the Head and Shoulders pattern were defeated, so at the end of the month I had a profit of $954.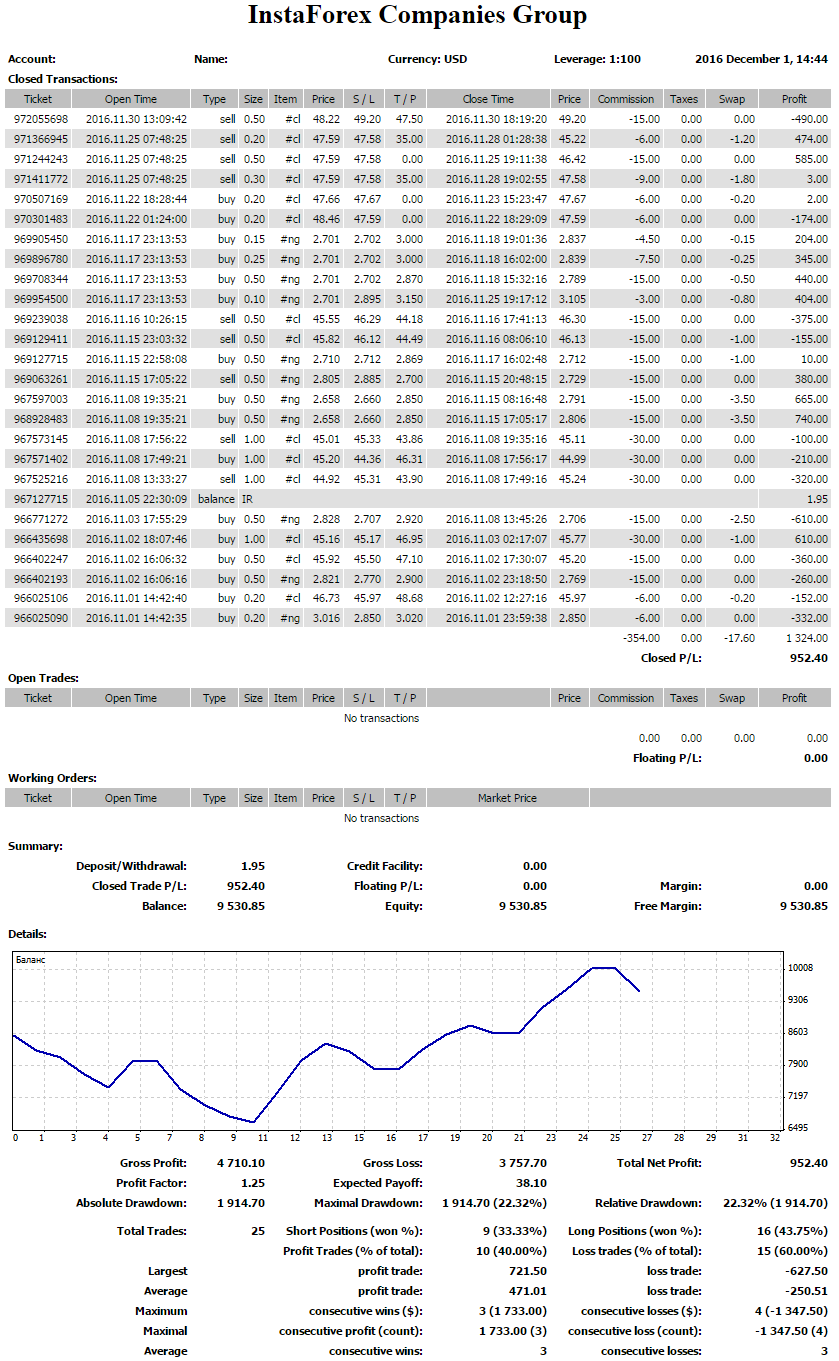 Account No 3.
This long-term account brought me a profit of $82. All October buy trades on GBP/USD were closed and all pending limit orders were deleted. I spent much time, waiting for a medium-term bullish setup on the Japanese yen to occur, but decided to take a wait and see approach, as Trump's victory fueled a slump in USD/JPY. This decision turned to be ill-considered, and the dollar's plunge in first hours after the election was a just result of the market turmoil, sparked earlier by mass media. Unfortunately, I wasn't able to make up for lost time. So, all I could do is to look for counter-trend setups, as I'm not daring enough to buy a currency pair after a price moved by 1,200 pips without a prospect of a pullback.
Besides, I have one more account which participates in the Presidential Race team contest. Here the trading is quite aggressive, and I'll let you know the results of it as soon as the contest is over.  
Did you like the post? Share it with your friends!