The calendar shows November 1. It means the time is ripe to sum up trading results for the previous month. Before I unveil my statement, let's recall the biggest market moves in October. The GBP/USD pair was again under the spotlight. In early October, the pair broke out support at 1.3000 and tumbled to the record low of 1.2000. Interestingly, the pair hit the bottom during night trade, when an hourly candlestick was in the range from 600 to 1,200 pips on different trading floors.   
A lot of traders were not ready for such developments. Those, who deviated from the money management strategy, incurred big losses. For example, this negligence dealt a blow to my bonus account credited with the prize money for the second place in the Olympic spirit contest. On the whole, October brought me a good harvest that is proved by the overall profit of $899.
Here are detailed statements on three trading accounts. Traditionally, I'm going to start with the account which I'm using for intraday trading on several currency pairs. 
Account No 1.
I'd like to describe trade on this account as the fight against the market during the whole month and my opponent was declared the winner. As long as I followed carefully money management and the trading system's rules, the yield curve was on the rise. As soon as I became too self-confident and decided to increase the number of lots too much, everything went wrong immediately. As a result, I lost the profits gained in the first half of October and had to add my own money. So, I closed the month with a $38 loss. Now I'm fully aware that trading with higher risks leads to reckless deals which make a bad impact on the overall trading result.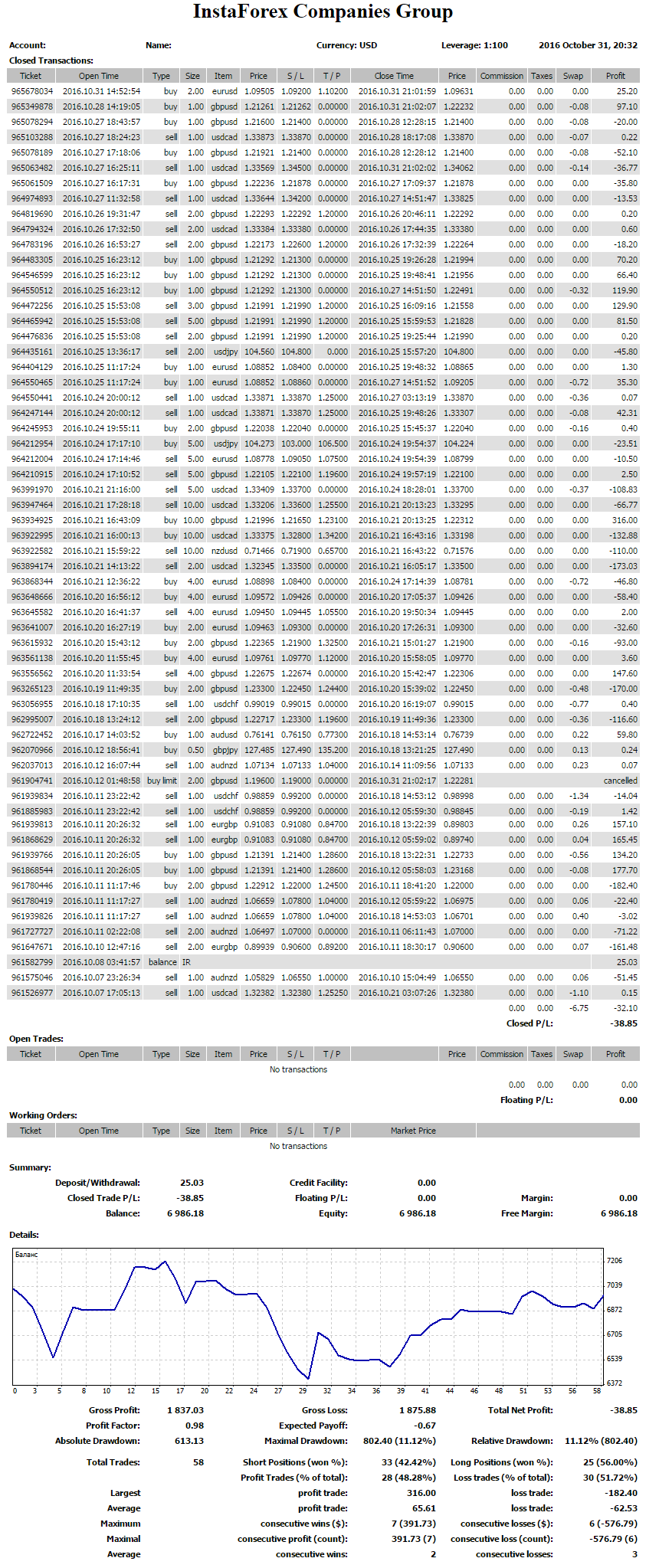 Account No 2.
Trading commodities has been bearing fruit for the second straight month. Oil and gas showed mainly predictable dynamics and brought profits worth $623.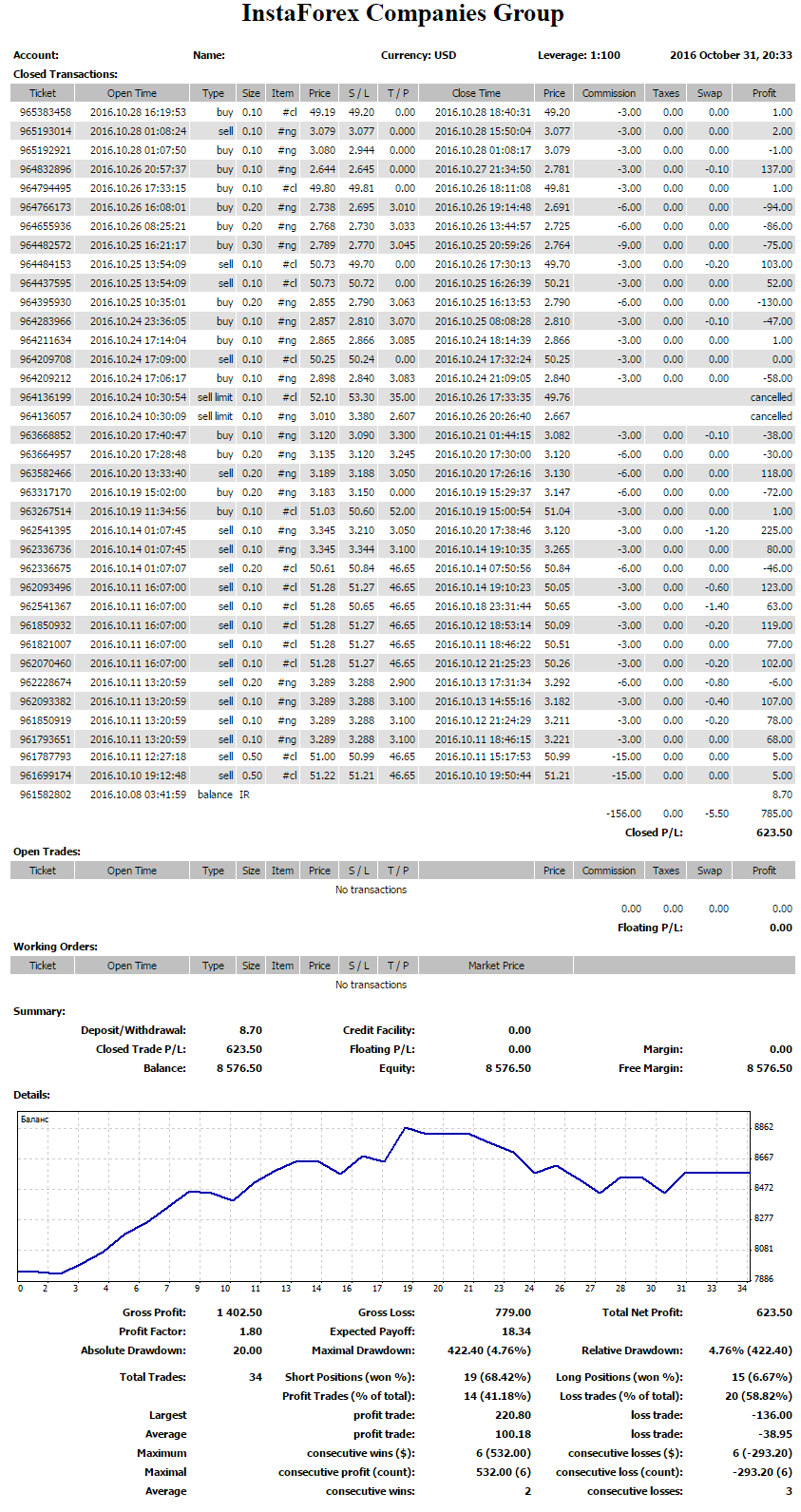 Account No 3.
This account is used for long-term trading. I expanded on this strategy in the article When sterling slump to stop? Now it's evident this approach has proved itself and I managed to gain a profit even amid a protracted fall in the pound. To sum up, I finished the reported month with a $314 profit. In November, I expect a smaller floating loss on the orders which are still kept open in the market.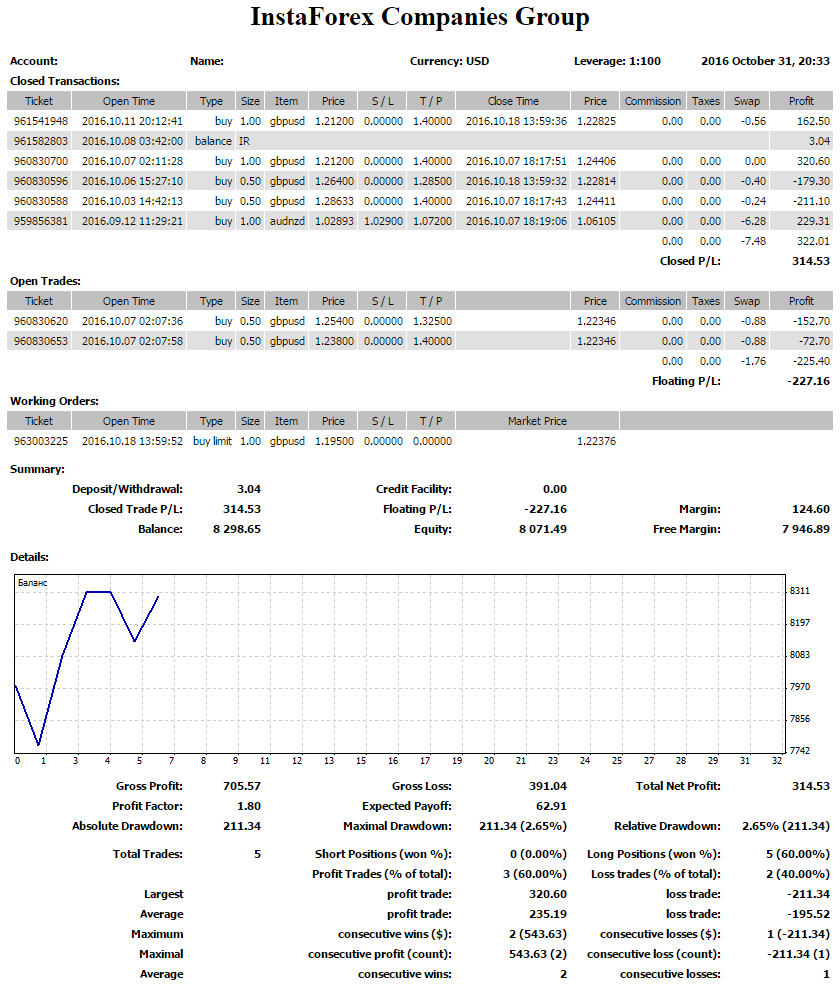 In conclusion, I'd like to note that better trading results are achieved on those accounts which a trader is least focused on. This is because of the fact that open positions influence trading decisions.